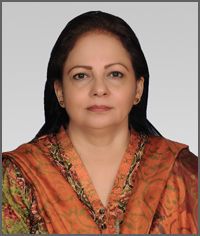 Ph.D in Economics, The University of Leeds, U.K.
Master of Applied Science in Economics, Applied Economics Research Centre, University of Karachi
M.A in Economics, University of Karachi
Western Executive Program, Richard Ivey School of Business, The University of Western
Dr. Aisha Ghaus Pasha has wide experience of teaching, undertaking research in macro-economy, social policy and development, governance, public finance and urban and regional economics and in advocacy work on social and economic issues. She is currently serving as Minister of State for Finance and Revenue Pakistan. She was previously Minister for Finance, Government of the Punjab. As Minister she has experience leading the fiscal management of the government at both the provincial and national level. In Punjab, she was instrumental in design and development of a number of policy initiatives of the Government. Prior to this, she served as the Director of the Institute of Public Policy, Beaconhouse National University, Lahore Pakistan. She has served as the Deputy/ Acting Managing Director of the Social Policy and Development Centre, Karachi, Pakistan, a non-governmental think tank. Dr. Aisha Ghaus Pasha has been a member of several Task Forces, Committees and Commissions on macro-economy, public finance, social sectors, poverty alleviation and institutional reforms constituted by Governments in Pakistan. She has also undertaken consulting assignments for a number of international multilateral and bilateral agencies like UNDESA, UNDP, The World Bank, The Asian Development Bank, Canadian International Development Agency (CIDA) and the United States Agency for International Development (USAID). She is author of various books, journal articles and reports.